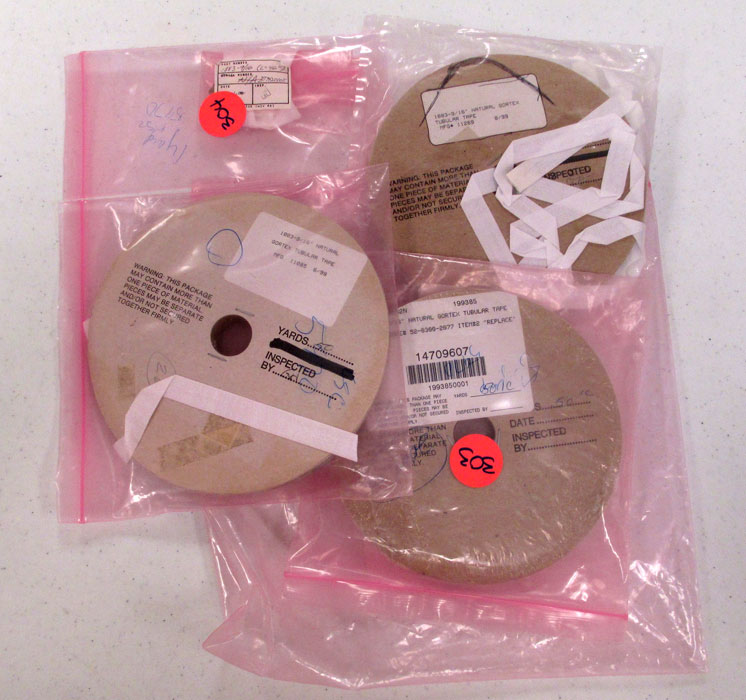 Save/print image
Category Textile
Description Three 7" rolls of white textile tape/trim and one cut yard of same textile. Textile is 9/16" wide and a tube or double thickness. Rolls hold 50 total yards each. Each roll has specific notes on the side. The one-yard piece has brown dye on each end. All items included are in very good condition.
Barcode 31315006360619
Provenance Item shipped from Johnson Space Center, Houston, TX. Currently held in the Orland Park Public Library NASA Special Collection. Item is a display piece. Part of order 18-2.
Purpose Gortex (Gore-Tex) is a fabric and tape company that makes materials for spacesuits. Items held by the Library's NASA Special Collection include three rolls of Gortex tubular tape used to trim and cover raw material edges. There is no way to verify which spelling for this vendor is correct. Rolls have one spelling, "Gortex" that could not be confirmed. Internet search gave "Gore-Tex" as spelling.

For more information:
http://www.nasa.gov/externalflash/ISSRG/pdfs/emu.pdf