Welcome to 1000 Books Before Kindergarten!
1000 Books Before Kindergarten
1000 Books Before Kindergarten is a program that gives the exciting challenge to read 1000 books with your child before he or she enters kindergarten. Research shows that when children are frequently read to from age birth-5, they develop critical pre-reading skills like language development, increased attention spans, and listening skills. These skills help lay the foundation that your child needs when learning to read in school.
Spending time together every day reading and enjoying books is one of the best ways to encourage these skills and introduce your child to a life-long love of reading.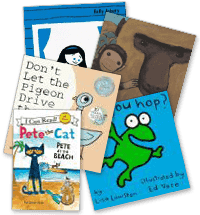 What to Do:
Register at the Youth Services Desk and pick up your first 1000 Books Before Kindergarten reading log.
Read together (this is the really fun part)!
Color in one book in your Reading Log for each book read. If you read a book more than once, you can color in a new book each time. Remember to include books from any storytimes or programs you attend at OPPL.
For each 100 books read, bring your Reading Log to the Youth Services desk to get a sticker.
When you finish 500 books, bring your Reading Log to the Youth Services Desk for a very special half-way prize snack cup!
When you have read 1000 books, your child will receive:
A hardcover book with a special bookplate
Their picture on the Wall of Fame!
What Else Do You Need to Know?
This program has no end date except your child's first day of kindergarten. Do not feel rushed!
If you read three stories a day for one year, you will meet your goal easily.
Please enjoy the experience of reading with your child. Take the opportunity to talk with your children, sing songs, recite nursery rhymes, attend library programs, and create some wonderful memories.
Remember to stop by the Youth Services Department for some book suggestions if you ever need a new book to share together.
Happy Reading!
Stephanie Thomas
Preschool Services Coordinator
Lonigan CJ. Emergent literacy skills and family literacy. In: Wasik BH, ed. Handbook of Family Literacy. Teale WH, Sulzby E. Emergent Literacy as a Perspective for Examining How Young Children Become Writers and Readers. Teale WH, Sulzby E, Emergent Literacy: Writing and Reading. Whitehurst GJ, Lonigan CJ. Child Development and Emergent Literacy.